This article was first published on Food Mag Online earlier this month. You can view the original article here.
It may seem innocuous, but the level of attention that you pay to your factory floor will inevitably improve food and human safety in the workplace. Steven Impey takes a closer inspection.
Finding a balance between product and human safety in the workplace is one of the food sector's ongoing challenges.
Even on highly automated factory floors, the footfall still remains high wherever quality control requires a keener eye for contamination and operational assistance.
Especially in facilities such as abattoirs, dairy processors, and food factories – where human hand meets the production line – companies must maintain the highest standards for worker safety as well as product integrity.
"What food manufacturers are looking for is product safety – that is the number one issue," said Ray Schnitzerling, design director at Wiley, who design and build manufacturing facilities.
"You have to be able to clean your floors well and they need to have good drainage; but that doesn't necessarily solve the human safety factor.
To stop people from slipping, you need to have good flooring systems – however, when you have really good slip assistance, it is going to be harder to clean.
"There is always this conflict between trying to provide something that is easily obtainable and drains well compared to an environment that is safe for workers and is suitable for pedestrian use," Schnitzerling added.
Among some of the most common causes for injury within Australian industry, slips and trips are still prevalent.
The challenge is to have enough grit in the flooring that makes it easy to clean but remains safe to walk on.
Under section four of the British Retail Consortium (BRC) Global Standard for Food Safety, expectations are set out for the production environment. This will include the layout and maintenance of the facility and equipment, cleaning, pest control, waste management and foreign body controls.
"It is always a struggle to provide that slip resistance rating as opposed to the cleanability of your floor," Schnitzerling said.
"However, another thing that is an issue is where you have people standing in the same position for long periods."
At the top of the tree, stresses on the body are a major cause for long-term injuries, meaning a work environment must meet the needs on the people of the ground as well as the food and drink they produce.
One area that isn't always taken into consideration is the type and standard of flooring a processing plant invests in.
For example, there are various floor materials that have rubber in them to combat body fatigue – although they are not always desirable in a food environment.
It therefore means knowing what sort of application you need to use in different work environments.
For example, in an abattoir, blood is very aggressive and requires a particular resin flooring that is not susceptible to blood corrosion.
In a milk factory, it is the same story. Whatever the food type you produce, you need to make sure that your flooring is resistant to corrosive food products.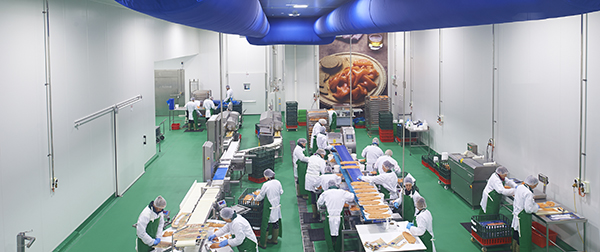 At Flowcrete, the flooring design company based in New South Wales, its engineers work across a multitude of industries.
"Within food and beverage as well as other sectors, we try to work to educate people on what their specific requirements are," said Ilona Osborne, Flowcrete's marketing manager.
"Flooring is one of the most important things you can have in a food facility although, unfortunately, it really is an afterthought for a lot of businesses.
"That is why we try to work with businesses on the specification side of things and to look at how it benefits their facility."
The non-slip issue can always be a safety problem, she explains – especially in wet-processing areas like abattoirs, which require flooring with quite a severe non-slip aggregate in it.
However, they can be quite difficult to clean so it is important to ensure that you have a good material that is easy to maintain and having the correct cleaning tools.
This may include an anti-microbial agent built into the resin which works to proactively kill bacteria on the surface of the floor and create a hygienic environment when accompanied by the correct cleaning procedures.
"We have been working with a lot of clients who have offered a lot of feedback. Traditional resin flooring systems can be difficult to clean which is why we have developed a gloss finish," Osborne said.
"It's all about continually looking at the facility and what the requirements are for an individual business and adjusting the flooring systems to suit."
At Roxset, one of Australia's leading flooring solutions providers, offering a one-to-one service is vital to getting the job done right first time and in a timely manner.
With profitability and production time now so tightly connected, knowing the ins and outs of the client's targets is critical to making the right choice for any given floor surface.
Bruce Willan, Roxset's managing director based in Sydney, explains why that is the company's number one rule.
"It is a problem seen across the manufacturing industry, where people are becoming fascinated by the latest robotics and technology while the floor surface they work on is important to some but not necessarily to others," he said.
"It is actually an integral part to any production business and, as an industry necessity, it is important that we provide a high quality food grade surface suitable for rapid installation while there is growing pressure in Australia to run your business 24 hours a day."
Making sure that a client can easily maintain their floor and won't need a recall after installation is a long-term investment and proves to be one of the biggest challenges across the industry.
"The time frame that we often work with is very limited – for the larger projects, it could take as few as five days to complete 1,000sqm – and requires, on our part, a good understanding of our clients and their needs," Willan continued.
"At Roxset, we particularly like to interact with our clients directly so that they and their clients are best served rather than liaising with a third-party contractor.
"We therefore need to make sure to tailor each floor surface to each specific client and, on our part, requires a larger operation that can serve companies across the country, in any given sector, at any given time."
Another area of importance is knowing a client's internal traffic and the critical areas of the facility so that the architect can come up with a specific plan.
"Working with and learning from the client involved to achieve the best result means acting as one unit," Willan said.
"More food processors are now dealing with clients on an international stage and want to look the part, so making sure your flooring is up to standards is the first step to making your factory look the part too."
One of the misconceptions Osborne has recognised from events such as foodpro is the role resin plays in the maintenance of different industrial flooring.
At Flowcrete, they are offering cementitious polyurethane resin flooring that can be used as an alternative option in the food and beverage industry across a variety of sub-markets.
These flooring systems are designed to work within a punishing environment and provide wear, impact and chemical resistance, which is a benefit to areas where implements can drop on to and cause damage to the floor.
Cementitious polyurethane resins are also able to withstand thermal fluctuations from -40°C to 120°C, which are often found at different stages and zones of production.
Furthermore, they can also feature natural antimicrobial additives, which provide additional protection against bacteria and fungi.
"In one facility, you may have smoke rooms and you may have areas where you are pulling out hot trolleys or you may have cold rooms for process packaging," Osborne explained
"They all require different flooring technology – and you are not going to use the same flooring you use in a commercial kitchen as you would in a packaging area."
The introduction of robotics into the workforce has also changed the way companies think about the surface they work on.
For example, processors may consider using their flooring to create zones where it is safe and not safe to work.
This could include painted patterns or lines in the floor's material that show where people can walk and therefore requires a little bit more slip resistance.
"Factories will probably move to a lights out situation where there are no people within the factory during a period of time," Schnitzerling said.
"Although there will be supervisors, who may only be allowed to enter the production area at a certain time, you are always going to have some manual processes in place."
While most manufacturers are trying to replace manual work with automation, you still need floors that can be cleaned.
"That's what food manufacturers are looking for most of all – a hygienic environment for the production of their food," he added.