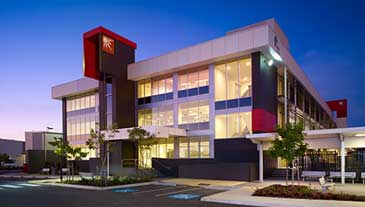 The Brisbane Markets Fresh Centre, winner of the Queensland Master Builder's (QMBA) Brisbane Regional Award for "Excellence in Sustainable Building" is once again in the running for not one but two awards recognising the building's outstanding level of sustainable design.
Wiley are proud to share this project has just been selected as a finalist for the Large Commercial Award in the 2012 Building Product News (BPN) Sustainability Awards. The winners will be announced at an awards dinner in November in Sydney and be published in the December edition of the magazine.
View all the finalists here.
Now in its sixth year, the BPN Sustainability Awards recognises the pinnacle of sustainable building practice in Australia.
BPN has published the panel of sustainable building design experts who will assess and determine this year's award winners. Judges will include Dick Clarke, director of sustainable building consultancy Envirotecture; Jane Toner from ESD consultancy Sustainable Built Environments and Kerryn Wilmot from the University of Technology, Sydney's (UTS) Institute for Sustainable Futures.
Read BPN's full story on the Awards Jury here.
The Fresh Centre is also currently in the running to win the State level of the QMBA 'Excellence in Sustainable Building', with the Gala celebrations taking place in Brisbane on Friday, 28th September.
View the QMBA, Fresh Centre photo gallery here.
Read how Wiley brought new life to an old building with the Fresh Centre refurbishment: Wiley Project Profile