With their impressive business value, ASRS (Automated Storage and Retrieval System) systems have been growing in popularity in the food industry. Wiley's Senior Process Engineer, Brendan Kerr explores in this article why ASRS solutions are an impressive addition to modern materials handling systems and showcase a real life example with NCMC.
Brendan explains "An ASRS is essentially very high storage racking without the requirement of a forklift or person. It can be sized to store anything from aircraft containers to wooden pallets, to small cartons or plastic crates. Recently we have seen an increase in the food processing industry implementing these in their facilities.
At the heart of a traditional warehouse is a pallet store, and an ASRS gives your heart a brain. Installing the correct ASRS and combining it with the right periphery equipment and software will increase the profitability of your business by allowing you to deliver higher quality product to your clients faster."
Why are ASRS solutions an impressive addition in your facility?
Recover valuable floor space and labour currently used for sortation of incoming or produced goods
Speed up the warehouse operations
24/7 loadout operations with minimal staff and 100% tracking
Best practice Just-In-Time order fulfilment, allowing late order changes without delays
Reduce the size of loadout staging areas
Hold less stock and no stock loss
Sort stock into infinitely variable customer orders with no extra work required. You will be able to keep up with ever increasing customer demands and increasing market potential
Increase storage capacity without increasing building footprint
Eliminate the storage of part pallets, maximising capacity
Achieve best practice refrigeration and energy costs
Eliminate forklifts
Eliminate or reduce pallets by carton/crate ASRS installation
Automation of further areas of your business
ASRS systems use minimum floor space and maximise vertical space in the facility, saving footprint, power, time and money. They maximise efficiency within your warehouse management system, minimize and mobilize your stock, secure product, eliminate damage, and increase productivity and accuracy.
Looking to the future, in a food facility, the next generation ASRS might have shuttles which are autonomous vehicles and can have attachments mounted on them such as robotic arms. This is a very interesting concept for companies generating custom crate contents.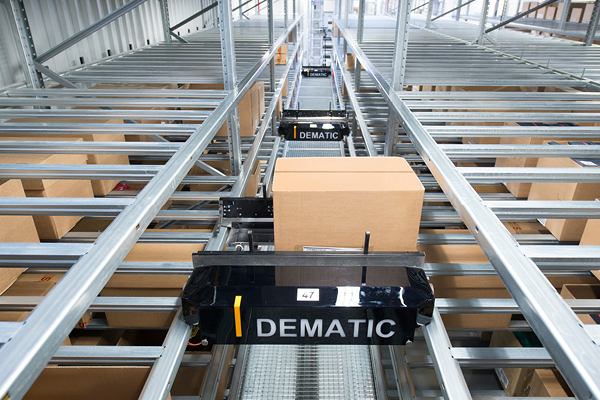 Real World Example: Northern Cooperative Meats Company
The new ASRS system supplied by Dematic for installation into the NCMC facility designed and delivered by Wiley is the first ASRS in a frozen environment in Australia and only the second in the World.
Due to the nature of the NCMC business, the company produces a large range of product and volumes, which has in the past required a greater amount of product handling than is ideal. This installation allows NCMC to better manage product flow by being able to place small order SKU's (those products that are less than a full pallet) in the storage facility and fill the pallet when sufficient numbers are produced, significantly reducing the amount of manual handling.
We may soon see grocery stores who utilise ASRS systems. These will completely automate the shopping process, starting by retrieving and delivering your order from the warehouse where autonomous forklifts will learn the environment, and optimise themselves.
Chilled and frozen carton ASRS, combined with automated carton chilling, freezing packaging and palletising equipment can eliminate an enormous amount of heavy lifting and manual handling. This system will increase operational complexity and flexibility simultaneously. As well, it provides an improved presentation of delivered goods, product quality and shelf life.
Interested in automating your facility to create efficiency with an ASRS system? Talk to one of our Team today.